Etching Colored Stainless Steel
• Etched pattterns are created by selectively applying a protective acid resistant file to appointed areas and acid etching the unprotected areas. The etching removes a thin layer of stainless steel, changes the color to dull silver gray, and roughens the surface, which can be contrasted with grinding ot other finiehes to create thousands of variations.
• Available on grade 201 304 316L inox sheet.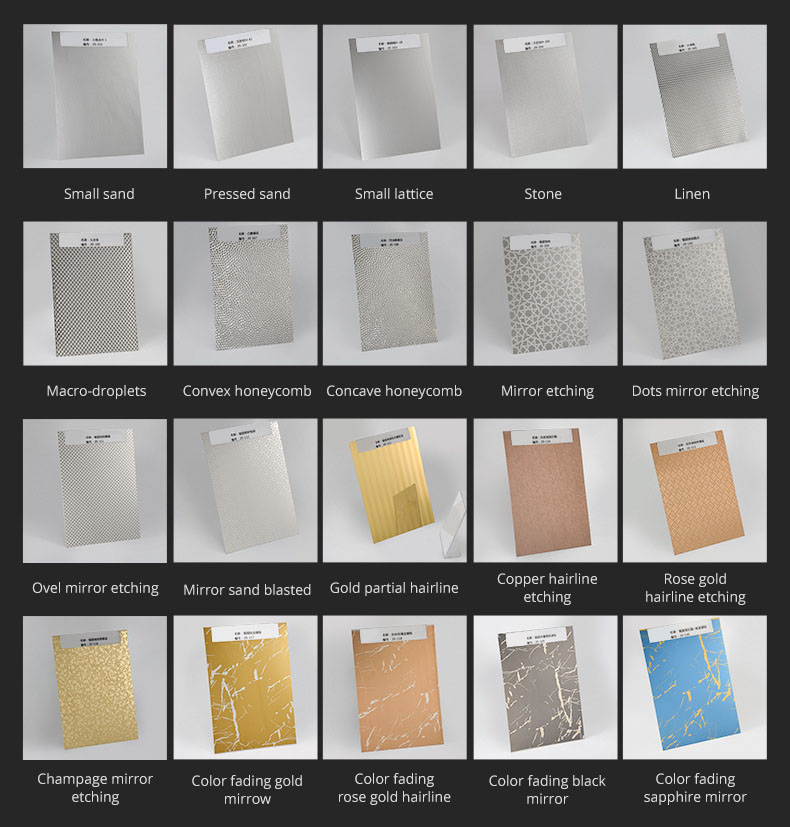 Name

Grade

Dimensions(mm)

Thicekness

(mm)

Etching Colored Stainless Steel

201, 304, 316L

1000 x 2000

1219 x 2438

0.60 0.80

1.00 1.20

1.50 2.00
Colored stainless steel is non-toxic, has good corrosion resistance, good abrasion resistance, etc. With different illumination angles, color and luster can produce a changeable color effect. Colored coating can maintain its original property at minus 200 degrees centigrade. Meanwhile, its salt spray corrosion resistance is better than normal stainless steel.
PVD coating stainless steel is excellent for outdoor use as it is not affected by UV. It is also excellent as a secondary coating to the stainless steel as chemicals and detergents do not affect the finish.