8K mirror Colored Stainless Steel
• The 8K Mirror Finish colored stainless steel sheets are standardized and professionally monitored under strict technical supervision to ensure offer superior quality and excellence, across the globe.
•  The 8K Mirror polish finish stainless steel sheet is a high polished stainless steel, It is designed for architectural applications, decoration applications, electricity product applications.
•  It is highly reflective making it suitable for mirrors, wall panels, coping and trim.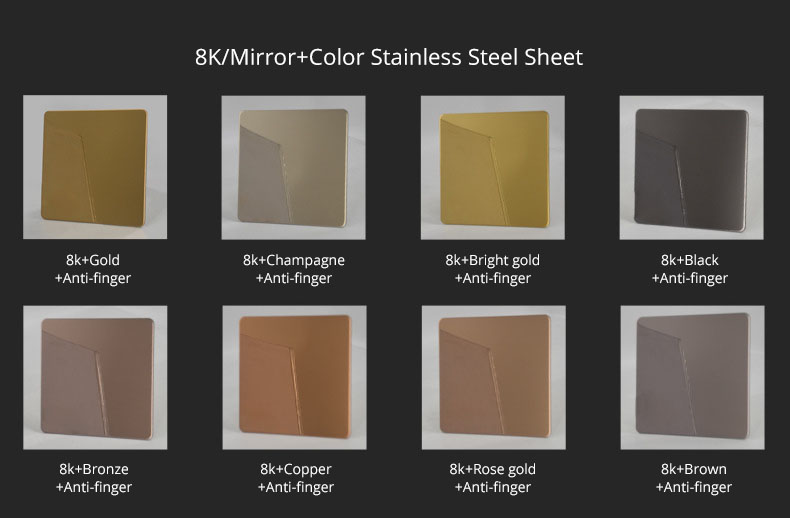 Name

Grade

Dimensions(mm)

Thicekness

(mm)

8K mirror Colored Stainless Steel

201, 304, 316L

1000 x 2000

1219 x 2438

0.60 0.80

1.00 1.20

1.50 2.00
Colored stainless steel is non-toxic, has good corrosion resistance, good abrasion resistance, etc. With different illumination angles, color and luster can produce a changeable color effect. Colored coating can maintain its original property at minus 200 degrees centigrade. Meanwhile, its salt spray corrosion resistance is better than normal stainless steel.
PVD coating stainless steel is excellent for outdoor use as it is not affected by UV. It is also excellent as a secondary coating to the stainless steel as chemicals and detergents do not affect the finish.