316 Stainless Steel Sheet
• Alloys 316 (UNS S31600) and 316L (UNS S31603) are molybdenum-bearing austenitic stainless steels, which are more resistant to general corrosion and pitting/crevice corrosion than the conventional chromium-nickel austenitic stainless steels. The resultant composition of 316 gives the steel improved corrosion resistance in many aggressive environments. The molybdenum makes the steel more resistant to corrosion in mildly corrosive environments gives the steel good atmospheric corrosion resistance in polluted marine atmospheres.

• 316 offers higher strength and better creep resistance at higher temperatures than 304. 316 also provides excellent mechanical and corrosion properties at sub-zero temperatures. When there is a danger of corrosion in the heat-affected zones of weldments, the lower-carbon variety 316L should be used.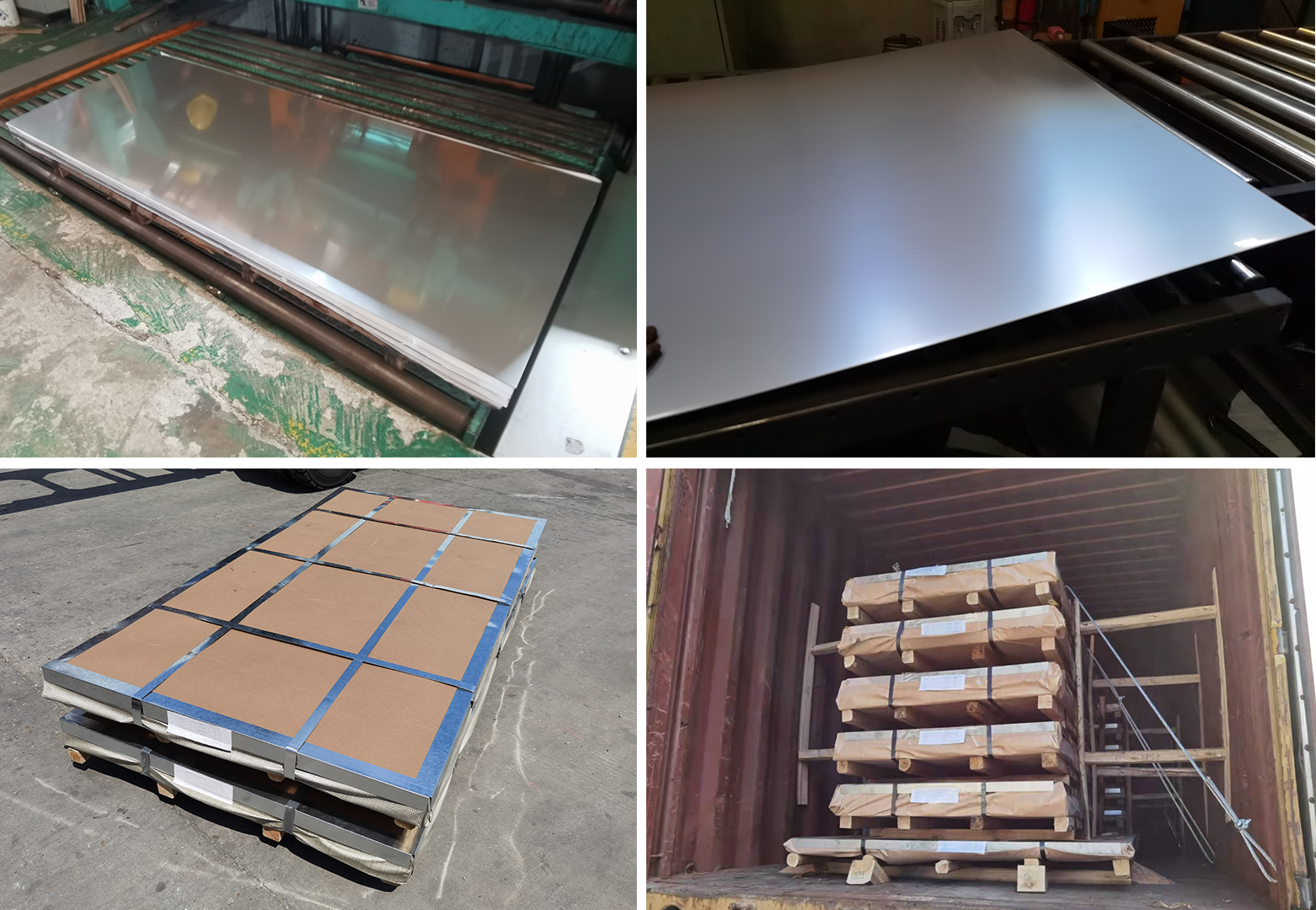 Steel grades

316, 316L

Production

cold rolled

Thickness

0.2-3.0mm

Width

1000mm,1219mm,1240mm,1500mm

Standard size:

1000*2000mm, 1219*2438mm, 1500*3000mm

Edge

Mill and slit

Finishes

2B,BA,8K,No.4,HL,Etching,Embossed,Colored

Film

Paper,PE, Rubber, Laser, Fiber Film

packing

Water-proof wooden package

Application

pharmaceutical and photographic equipment,pumps,Marine,

Jewelry,power generation

Payment terms

T/T and L/C at sight
Equivalents
316- S31600, EN 1.44401
316L- S31603, EN 1.4404
Typical application
316 has applications in many sectors of industry, some of these include: Chlorides containing and in polluted marine environments. Desalination plants, pipework, tanks, process vessels for more aggressive corrosive liquids. Specialised process equipment in the chemical, petro chemical, pulp and paper, pollutions control and petroleum industries.
Chemical composition
| | | | | | | |
| --- | --- | --- | --- | --- | --- | --- |
| Grade | %C | %Mn | %Si | %Mo | %Cr | %Ni |
| 316L | 0.03max | 2.0 max | 0.75 max | 2.0-3.0 | 16.0-18.0 | 10.5-18.4 |
| 316 | 0.08max | 2.0max | 0.75 max | 2.0-3.0 | 16.00-18.00 | 10.5-18.4 |
Corrosion resistance
The performance of 316 compared with other metals in various environments is shown in the table below – the corrosion rates are based on 10-years exposure.
Cold rolled
316 / 316L being extremely tough and ductile, is readily fabricated by cold working. Typical operations include bending, forming and deep drawing.
Welding
316L has good welding characteristics and is suited to all standard welding methods. Either matching (316L) or slightly over-alloyed filler wires such as 308L should be used. Weld discolouration should be removed by pickling and passivation to restore maximum corrosion resistance.