Duplex Stainless Steel Keep Focusing on Market
19-07-2022
In normal daily life, we know the main stainless steel are including 200 series, 300 series, and 400 series. But about Duplex Stainless Steel? Not all people will know that. In general speaking, it might be a high stander material, from the famous mill brand like TISCO, JIUGANG, or LIANZHONG. But since the first Qingyi S32001 launch on the market in June, it has been a high concern from the stainless steel market.
Based on the down downstream information, most of the people care about S32001 on rust resistance, processability, product stander, and the price level. To find out these questions, we need to know from the beginning.
What is Duplex stainless steel?
Duplex stainless steels are a family of stainless steels. These are called duplex (or austenitic-ferritic) grades because their metallurgical structure consists of two phases, austenite (face-centered cubic lattice) and ferrite (body centered cubic lattice) in roughly equal proportions. (remind: duplex stainless steel it has magnetic characteristic ). Cr will maintain 18-28%, Ni will maintain 3-10%, with low carbon.
What is the advantage of Duplex stainless steel?
1. It has good plasticity, which good for low cost
It save 30-50% material compare with 300 series stainless steel, by using duplex stainless steel for making tank or press tank, this is good for low cost.
2. Excellent stress and corruption resistance.
Even though the duplex stainless steel with the lowest alloy amount series is better stress and corruption resistance compare with 300 series stainless steel, especially in high chlorine condition.
With many material, the most comment item- 2205 duplex stainless steel is better than 316L with the corruption resistance, hence the economic item S32001 duplex stainless steel is better corruption resistance than SUS 304.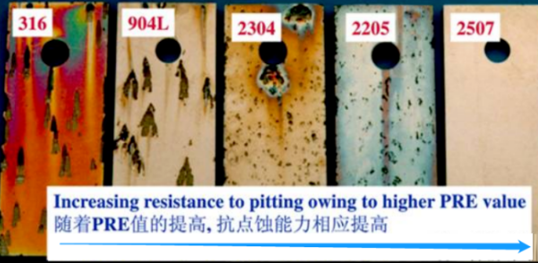 3. Strong connection ability.
Compare with SUS 300 series the duplex stainless steel it has low Linear expansion coefficient, similar to carbon steel, it can connect with carbon steel, which has very important project meaning, like producing composite board.
4. Better absorption ability
Duplex stainless steel it has better absorb power ability no matter in moving or silent conditions, this has a huge advantage for the accident like crash and explore.
5. Wider applications use
Duplex stainless steel has many applications use like gas transportation, chemistry vessel building, nuclear, structure, environmental project, railway transportation, food and beverage use.
S32001 this is invented by the building material for upgrade the material strength and lower the alloy cost. But after some projects used found out the material is extremely good, and use for some sea port fences, and this has a good result, hence Tsingshan group want to expand its use.
The duplex stainless steel it may be a fresh air with the stainless steel market.